The Food that Fuels Shalane Flanagan — Best Recipes for Runners
1. Thai Quinoa Salad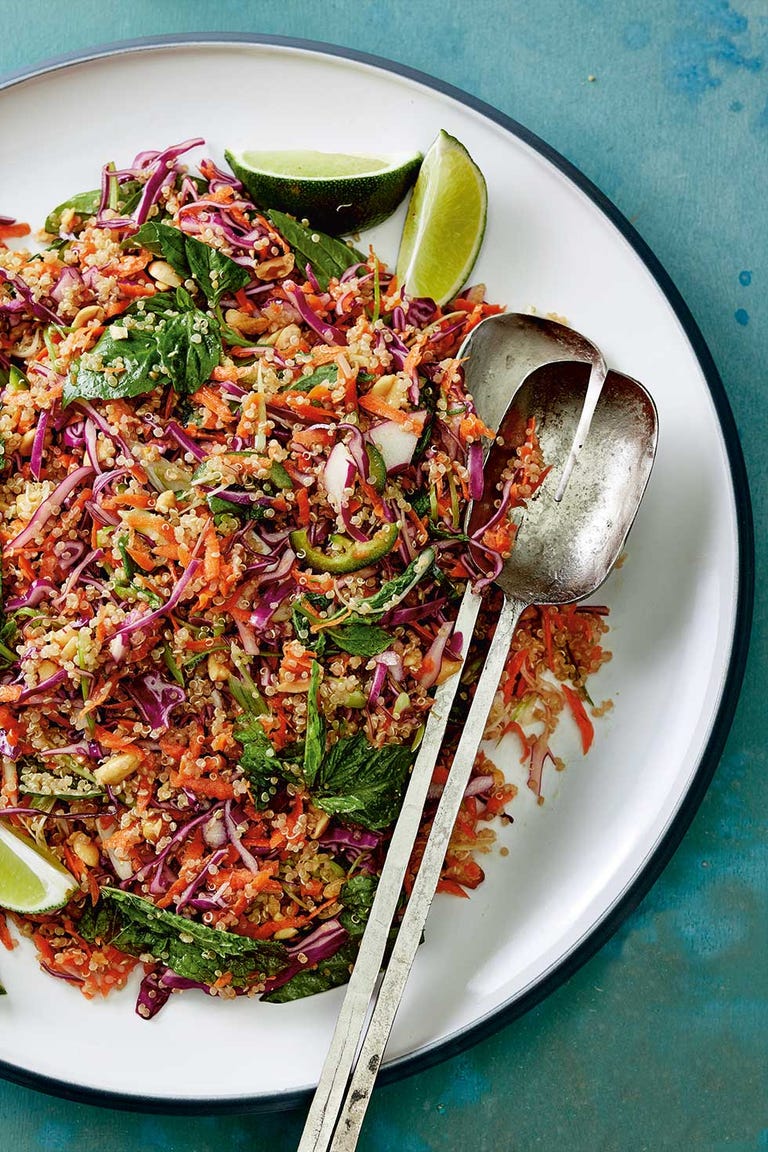 This is one of my favorite recipes of all time. It's one of the first we tested together in Elyse's kitchen in Bend, Oregon. I had just been diagnosed with a fracture in my back—I had to pull out of the 2017 Boston Marathon and couldn't run or train significantly for 10 weeks. I was feeling down, but eating this was uplifting. It was something new and delicious, and I knew immediately that this cookbook was going to be awesome. Working on the book gave me a sense of purpose when I felt a little lost because I couldn't run.
I love Thai salads, so this is a great healthy version, and even heartier because it's made with quinoa. In the summer, I love adding a fresh steak from the grill—I'm not picky about the cut, as long as it's grass-fed beef. This recipe was a staple throughout my training, and I ate it in the week leading up to New York. I knew it had the carbohydrates I needed and would be easy on my stomach, and I try not to change anything I've done in training before a big race.
Elyse:
A lot of people don't think to put fresh herbs in a grain salad, but they're good for digestion and inflammation, and they've got lots of vitamins and minerals. This recipe features lots of basil and mint, which also add a ton of flavor. And quinoa is the only plant food that contains all nine essential amino acids, making it a great food for vegetarians. This salad is gluten-free, and can easily be made vegan, too—just leave out the fish sauce.
2. 
Superfoods Soup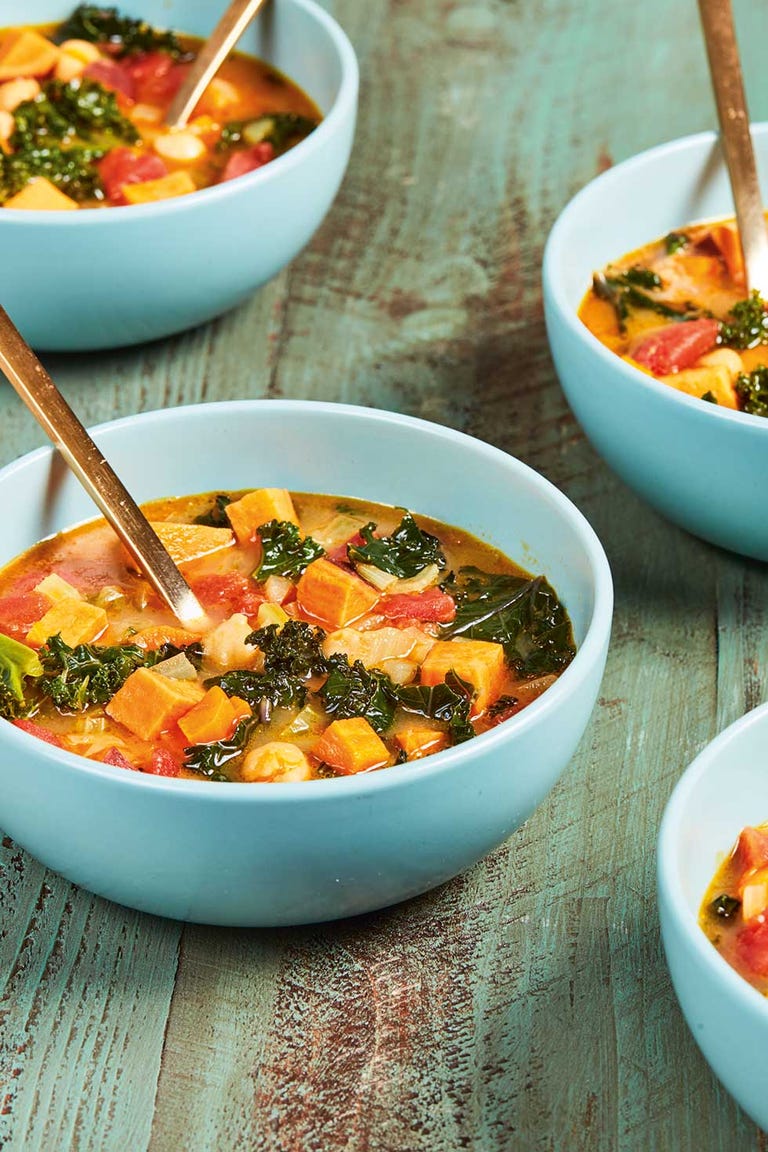 When I'm training really hard, I'm running 130 miles a week for about eight weeks. My immune system can take a heavy hit. This soup gives it a huge boost. Every ingredient has a purpose. Elyse taught me that full-fat coconut milk is antiviral, and curry is great for inflammation. And it has all these veggies: sweet potatoes, chickpeas, kale. It's just hearty and comforting. During the winter, I was training for Boston in Colorado, and it was cold and windy and snowy. I was running twice a day, and my evening runs were harder to get out for. Having a warm soup to look forward to when I got back made it a little easier. Wherever I'm training, I find a local bakery to get sourdough to go with it.
Elyse:
Soups are an incredible food for runners. They're more hydrating than plain water because of the sodium and natural electrolytes, and they're easy to load up with a variety of nutrient-dense veggies. For this soup, sweet potatoes provide an easy-to-digest complex carb, lots of essential electrolytes, and energizing B vitamins. The coconut milk is high in medium-chain fatty acids, which are easy to burn for energy, and it delivers creamy richness without adding dairy, which a lot of runners are sensitive to.
3. 
Turkey Trot Meatballs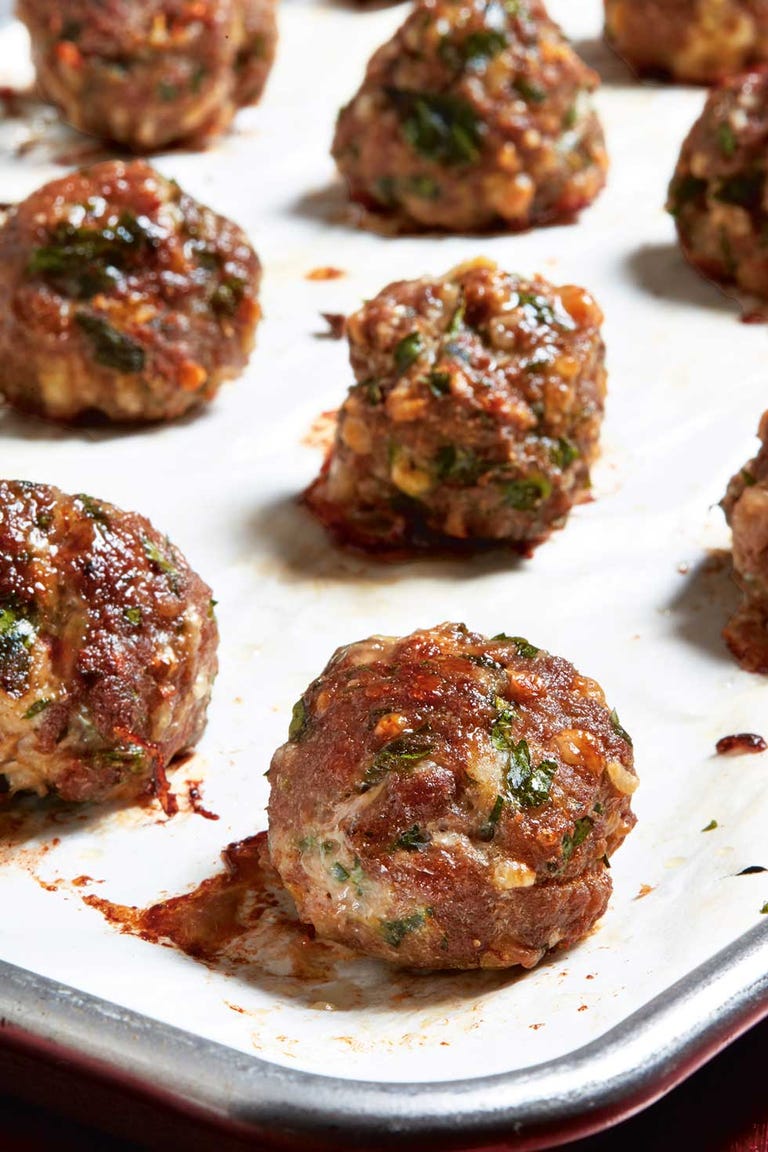 I need a lot of protein in my training. I crave it, and it keeps me full. The convenience and versatility of the meatballs are really appealing. You make a big batch, and have them around. My training is like Groundhog Day— it's grueling, and it's pretty much the same thing every day for three months. Having a good variety of food options that aren't bland and boring is really important to keep the taste buds happy. These are so versatile—you can even throw them on salads or in rice bowls.
Elyse:
Turkey provides protein that's easy to digest, plus essential vitamins and minerals for energy production. Many people only think fruits and vegetables provide vitamins, but high-quality meat is nutrient-dense. The cooking method also makes these a good choice for busy runners: Baking them is quick, and you don't have to brown them first and then constantly watch while they simmer.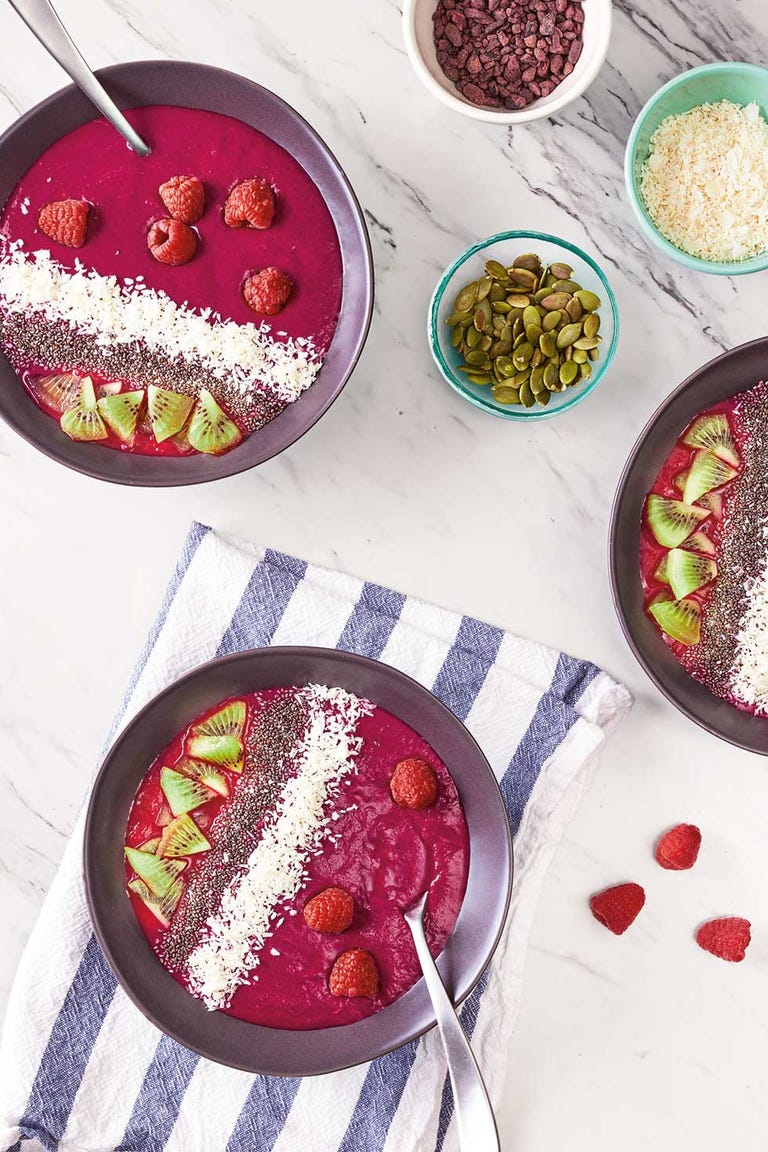 I do intense track workouts. Leading up to New York, I was doing mile repeats around 4:40, for up to 12 miles total over the workout. On those days, I would make a big smoothie and have a small portion to go with my oatmeal before my run, and then drink the rest after the workout. After a hard workout like that I'm not super-hungry, but I want a good recovery, and rehydration is especially important. So this smoothie is a great in-between before I sit down for a full meal.
I try to integrate beets into my diet when I'm training hard—science has shown they may be good for your cardiovascular system because they contain nitrates that help lower blood pressure.
Elyse:
Beets are rich in minerals like potassium, which helps hydration and muscle function. Oats are an easy-to-digest source of complex carbs that provide energy for running. But most importantly, power foods like these are most effective when combined together in the right ratio. For example, we can't absorb the fat-soluble vitamins in the fruit and veggies without the fat in the yogurt—that's why taking a supplement isn't as effective as eating the real deal.
5. 
Chocolate Peanut Butter Cups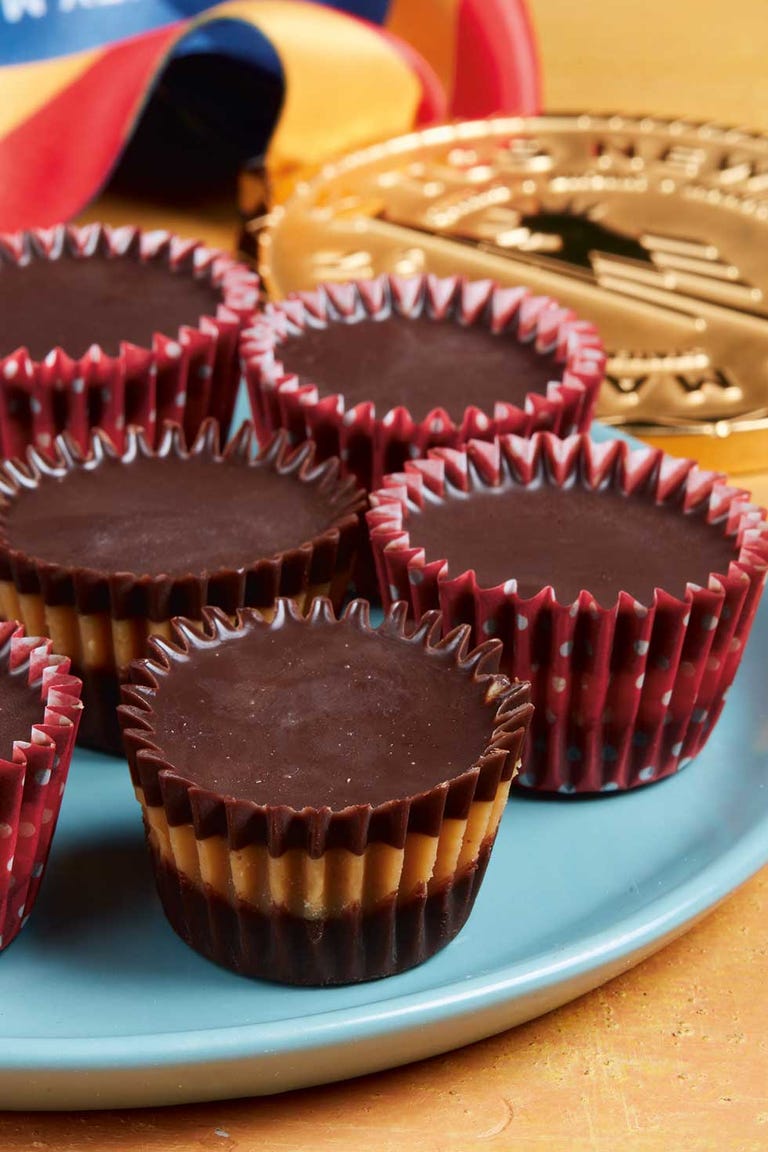 I crave chocolate and peanut butter quite a bit. And I love to have peanut butter cups midday, after lunch with hot tea—that's kind of my ritual. When I'm training hard, I look forward to a sweet treat and this really hits the spot. I only need one or two, and it's really satisfying. If I'm not racking up a ton of miles, I'll have these a couple times a week. But when I'm training for a marathon, my taste buds are intensified. These are a mandatory thing, every single day.
Elyse:
Store-bought peanut butter cups are full of sugar and hydrogenated oils—they're really bad for you. These are indulgent and rich, but you can feel good about eating them. They use coconut oil, peanut butter, cocoa powder, and maple syrup for the main ingredients, so it's all whole foods, good fats, and natural sweeteners. Having these stashed in my freezer is an awesome way to get all the good fats I need, in one little bite.
6.
Run Fast, Cook Fast, Eat Slow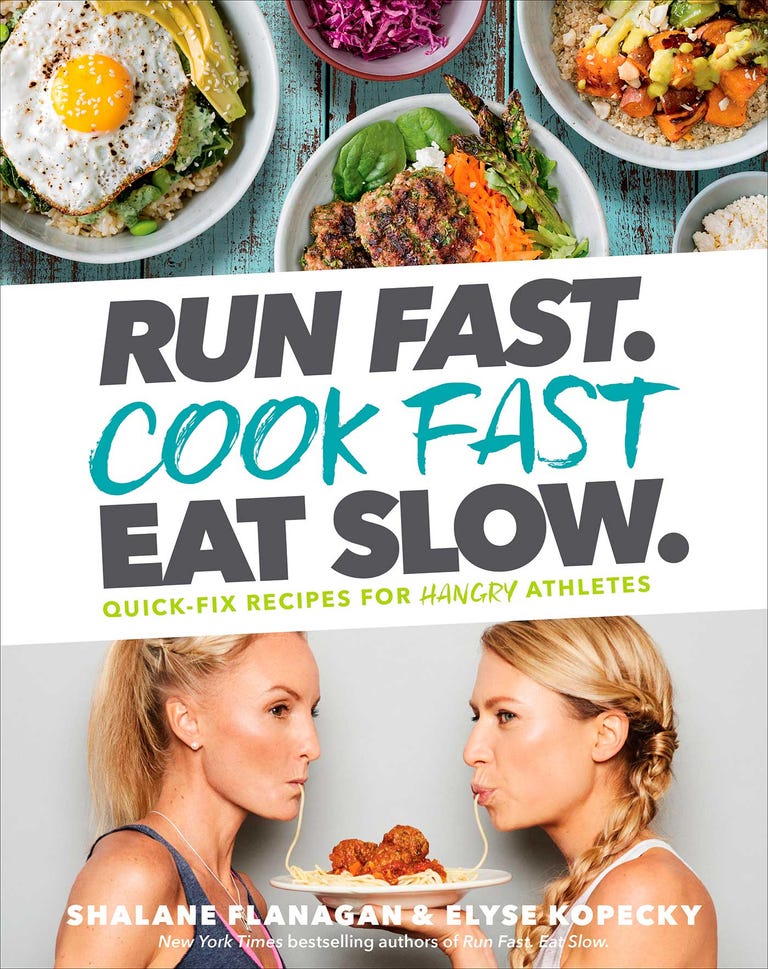 COURTESY